I hate to be the bearer of bad news to the fans of the other 28 NFL teams, but by the end of week 11 it became apparent there are really only 4 teams that matter. Many will protest that not a single team has been mathematically eliminated from the post-season yet, that even the 0-10 Cleveland Browns stand a 1 in 19,649,922,085,969,900,000 chance of playing in January, but I'm not hearing that bullshit. On Sunday, January 21, 2018, the four teams you will watch on TV will be the Patriots, Steelers, Eagles, and Saints. So if you're a fan of any of those teams, sit back and enjoy the next two months doing non-football related activities, and tune back in when it matters.
As for the rest of the league, there are four other teams that almost matter. It's been a fun year for Jacksonville (who thought they'd make the playoffs?), and the Rams and Vikings have been pleasant surprises, and the Panthers have bounced back nicely from their 2016 Super Bowl loss hangover, but let's face it, you guys are all window dressing. Better luck next year.
Is there anything compelling about the wild card races? Certainly not in the AFC, with the possible exception of the Chargers starting 0-4 and hopefully making the playoffs. The Ravens or Titans might back in via the sheer incompetence of the rest of the field. Speaking of which, how 'bout them Chiefs?
In the NFC the Seahawks are crippled by injuries, the Cowboys are flailing their way to mediocrity, the Lions are making a charge on the arm of Matt Stafford and the leg of Matt Prater, and the Falcons just might turn it around in time to be the third post-season entrant from the NFC South. So if you're a Chargers fan, keep watching until their next loss. If you're a Seahawks fan, just watch the magic that is Russell Wilson, even though your season will be over on December 31. If you're a Lions fan, have fun, you don't get to the playoffs often, maybe you'll get to lose on wild card weekend. If you're a Falcons fan, do you really want to go there again? And if, like me, you're a Cowboys fan, do you even want to watch the Thanksgiving game?
Everyone else in the league flat out sucks. But there's a special kind of suckage in Buffalo, where the major sports leagues' longest playoff drought is going to continue, come hell or high water or Nathan Peterman. In a move no one saw coming, Bills head coach Sean McDermott woke up last Wednesday and decided to set his dick on fire announced Tyrod Taylor would be benched for future answer to a depressing sports trivia question, Nathan Peterman. At 5-4, the Bills had as good a shot at the playoffs as the Ravens, Titans, or just about anybody in the AFC West. Why McDermott would decide to bench Taylor for a road game against the Chargers is anybody's guess. Did Taylor have a three-way with McDermott's wife and mom? There is no other explanation. Whatever the reason, the decision backfired in the worst way imaginable, and Nathan Peterman almost broke Bret Favre's career interceptions record in the first half of the 54-24 blow out loss. This is the dumbest thing anyone has done in the NFL all year. Even dumber than someone else's idea to fake a field goal last Sunday.
The Seahawks lost a ridiculously heartbreaking home game to the Falcons Monday night, 34-31. Russell Wilson proved again he is the most valuable player in the league this year, even if he doesn't manage to win the actual award. Wilson was responsible for 310 of the team's 360 yards of offense, once again leading the team in rushing yards with 86 on 7 carries. He also accounted for the team's only rushing TD. But none of that communicates the countless times Wilson extends plays that would result in a sack or turnover for any other QB. If Wilson had a decent offensive line, the Seahawks would still be leading Super Bowl contenders, but he runs for his life on almost every play, and turns most of them into positive yardage. But the most painful thing about this loss was Pete Carroll's moronic decision to try a fake field goal at the end of the half on a 4th and 1 from the Falcons 17 yard line with :07 left on the clock, down 24-17. Punter/kick holder Jon Ryan shoveled a pass to back up tight end Luke Willson, and Willson was tackled behind the line of scrimmage. I wonder how Seahawks fans felt about that play as Blair Walsh's 51 yard attempt at the end of the game fell a foot and a half short of the crossbar?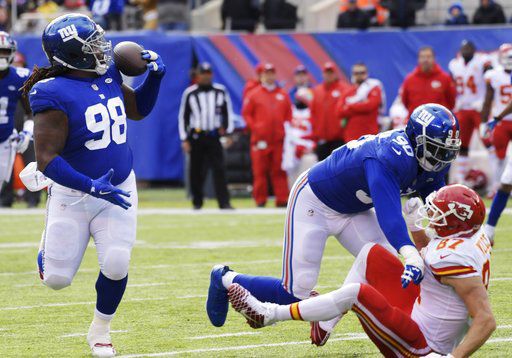 Last week I mentioned that some team was going to overlook the struggling Giants and lose to them, but that it wouldn't be the Chiefs. As with many things football this year, I was dead wrong about that. Or maybe I was half right, which better than I've been picking games against the spread. The Chiefs managed to barely show up and lost in overtime, 12-9. I was wrong about this game, but I take solace in being one of the few observers who wasn't buying the 5-0 Chiefs invincibility back in October. I said Andy Reid and Alex Smith would find a way to be who they are, and that's what's led them to now being 6-4 and in danger of losing a seemingly insurmountable lead in the AFC West.
AMOS OPOTW
Mark Ingram almost won this for the second consecutive week, as he rushed for 134 yards on only 11 carries and a TD in the Saints win, but Steelers WR Antonio Brown caught 10 passes for 144 yards and 3 TDs in the Steelers victory over the Titans. Congratulations, Antonio Brown, you are the week 11 AMOS OPOTW!
AMOS DPOTW
How about some love for the Giants? Third year safety Landon Collins recorded 15 tackles, 11 solo, and an interception in the Giants upset win over the Chiefs.
AARB
Marshawn Lynch had a pretty good day, carrying the ball 11 times for 67 yards, though he was curiously on the sideline early in the game in a 4th and 1 situation, watching a teammate who only had 5 carries on the season get tackled behind the line of scrimmage. No telling what kind of day he would've had with 25 touches, but it's tough to run the ball when you're down by 30 points.
Cardinals RB Adrian Peterson got 14 carries, which he parlayed into 26 yards. I wonder if he still feels he has "four or five good years left"?
Our elder statesman, Frank Gore, had a bye week, so his weekly 17-51-0 stat line also had the week off.
A Month Of Sundays A Moment of Schadenfreude
The Cowboys did what they could to lock up this week's AMOS AMOS, but they were outdone by Sean McDermott. I would ordinarily wonder if a move this stupid wasn't motivated by something nefarious, like shaving points or throwing a game, but that would be too obvious, right? The Bills were wild card contenders, and Taylor has thrown only 5 INTs in his last 434 attempts. Peterman threw that many in a single half on only 14 attempts. Only one other QB since 1990 has thrown 5 INTs in his NFL debut, that being the immortal Keith Null of the Rams in 2009.
Week 12 picks
DETROIT (6-4) +3 vs Minnesota (8-2)
Although these are not among The Teams That Matter, this should be an interesting game. Minnesota can essentially lock up the NFC North with a win, and the Lions can turn it into a legit race by pulling off the upset. The Vikings have won six games in a row, while the Lions ride a three game victory streak. I keep waiting for Case Keenum to play like the career pine rider he is, but he's operating behind one of the best offensive lines in the league and despite injuries at the so-called "skill positions," he's not short of weaponry. Logic would dictate the Vikings are the better overall team and ought to win, but I'm feeling the Lions in this one. Getting three points is nice, but I don't think they'll be necessary.
Los Angeles Chargers (4-6) -1 at DALLAS (5-5)
Laws of Parity favor the Chargers, as do the Cowboys recent extreme suckage. Add to that the fact that Dallas is coming off a Sunday night game (in which they got their asses handed to them), so they'll be operating on about 7 hours less rest in an already short week, and I smell disaster. My only hesitation in picking the Chargers is that Tyron Smith will play, and the Chargers are dead last against the run. Maybe Alfred Morris will have a big game? Curiously, the team with the worse record has a much better chance of earning a playoff spot, as San Diego is only two games out of first place and compete for a wild card spot in a much weaker conference. After their 0-4 start, the Chargers are an easy team to root for. The tipping point for me is I don't think the Cowboys defense can stop anybody right now.
New York Giants (2-8) +7.5 at WASHINGTON (4-6)
Washington is coming off a devastating defeat to one of the Teams That Matter, while the Giants are coming off a pride win. Being a divisional game, this could be a dog fight. I like Washington to prevail, but I think the Giants will keep it close. That last half point feels pretty good.
ATLANTA (6-4) -9.5 vs Tampa Bay (4-6)
Both teams have won two in a row, the difference being the Falcons have beaten the Cowboys and Seahawks, while the Bucs have beaten the Dolphins and the Jets. And Jameis Winston is not likely to be playing. Can Ryan Fitzpatrick keep the Bucs within 10 points? Probably not.
Cleveland (0-10) +8 at CINCINNATI (4-6)
Only because I want to see the Browns shave their playoff odds down to the 1:quadrillions. And this is one of two winnable games left on the Browns schedule.
Tennessee (6-4) -3 at INDIANAPOLIS (3-7)
One team has something the play for, the other team doesn't. If the spread was 7 or more, I might be taking the Colts.
Buffalo (5-5) +10 at KANSAS CITY (6-4)
Bills head coach Sean McDermott on Wednesday named Tyrod Taylor his QB "for week 12," but promised nothing beyond that. I'm not ruling out Tyrod Taylor going nuts, having a gigantic "FU!" game and, if not pulling off the upset, at least making it close. Then again, the Bills run defense has been atrocious in recent weeks, so Kareem Hunt could make me regret this. In any event, ten points are a lot.
NEW ENGLAND (8-2) -16.5 vs Miami (4-6)
Finally, one of the Teams That Matter. Sixteen and a half is a lot of points, but it didn't take much research to discover half of Miami's losses this year have been by more than that.
NEW YORK JETS (4-6) +4.5 vs Carolina (7-3)
Initially, I thought I'd need 7 points to take the Jets, but they've kept most of their games close, and frankly, I don't completely rule out an upset here.
PHILADELPHIA (9-1) -13.5 vs Chicago (3-7)
Another Team That Matters playing as a prohibitive favorite at home against a team that sucks. Seems risky to be giving all these points in two games, but the Eagles have covered this number in their last three games, so why not four, especially when facing a rookie QB?
SAN FRANCISCO (1-9) +6.5 vs Seattle (6-4)
I like the Seahawks to win, but they are banged up on defense and have no running game outside of Russell Wilson. Unfortunately for the 49ers, Russell Wilson's feet will probably be enough, at least as long as Pete Carroll doesn't do anything stupid.
Denver (3-7) +5 at OAKLAND (4-6)
The Broncos are in disarray, but I've got a hunch they will win their first road game of the year on pure anger. Or at least cover the spread.
New Orleans (8-2) +2.5 vs LOS ANGELESE RAMS (7-3)
The third Team That Matters this week has much taller order than their two predecessors, but at least they're getting points on the road. The Rams didn't look good last week when they faced one of the league's better teams, so we'll see how they respond this week. I'm of the opinion that the Saints are the most complete team in the league, so I favor them to pull the upset, even if they are due for a loss after 8 consecutive wins.
Jacksonville (7-3) -5 at ARIZONA (4-6)
Jacksonville's defense is in range to have a historically great season. There are valid statistical comparisons to the '85 Bears and '00 Ravens. And they'll be facing one of the worst offenses in the league. Giving five points seems easy, even on the road.
PITTSBURGH (8-2) -14 vs Green Bay (5-5)
The final Team That Matters will play Sunday night against a Team That Would Have Mattered, if not for a certain broken collarbone. So, will Brett Hundley settle down and get into a groove with his receiving corps? I don't think so. If the over/under on Hundley INTs is 2.5, I'm taking the over. Fourteen points is a lot, and I'm definitely nervous about giving away all the big point spreads this week, but I haven't been very good at this stuff in 2017, and I gotta be me.
Houston (4-6) +7 at BALTIMORE (5-5)
The Ravens should win, but I'm apparently convinced they won't cover.
Last week: 8-5-1
Season: 68-85-6