The coolest thing about sports is its unique ability to reflect our collective selves through a lens of artificial fairness. It is supposed to be an honest and unflinching form of competition the only point of which is to establish a dominance that is a step removed from the real (and mostly unfair) forms of competition we all contend with and engage in during our day-to-day lives. It represents everything that democracy and capitalism is supposed to be like, if only those games weren't so horribly rigged.
One side effect of the purity of competition in sports is that we're occasionally exposed for not meeting the ideals exemplified by the competition on the field of play. And this exposure of our collective hypocrisy can sometimes lead to changes in our society for the better. Take Jesse Owens at the 1936 Olympics, who forced America to wrestle with the notion that black people weren't inferior, and that America needed to choose who they hated more, Hitler and fascism or black people. Then Joe Louis became heavyweight champion of the world, dominating the division for over a decade. If a black man can lick anybody else on Earth in a fair fight, where does that leave society's notions of white supremacy? Black soldiers fighting in World War II certainly played some role in Jackie Robinson breaking the color barrier in baseball in 1947, and served as an underpinning for the civil rights movement in the 1950s.
And of course the 1960s brought us Muhammad Ali, Jim Brown, Bill Russell, and Kareem Abdul Jabbar, along with many other athlete/activists who forced America to continue to reckon with the central lie upon which our nation was built. All of these men were vilified to varying degrees in their time, and are now revered as heroes.
Since the advent of free agency in sports, and the explosion of sports as a business, many athletes have made hitherto unimaginable amounts of money, and in some ways that money served to silence them, or (in the eyes of white America) delegitimize whatever complaints they may have had about issues of social justice in America. Athletes like Michael Jordan never said peep for fear of damaging their "brand." And when others did speak up, they were told to they should be "grateful," as if they hadn't worked to get where they were, that all their fame, glory, and riches were just handed to them.


The charge of ingratitude has been leveled at the man who began the latest wave of athlete-activism by people who want to pretend history has no effect on the present, and that everything is America is hunky-dory, especially as it pertains to race. As discouraging as it is to hear this dusty defense of institutional racism in this day and age, it's equally encouraging to see how many athletes, particularly NFL players, have effectively exercised their First Amendment rights to draw attention to not only racial injustice, but other social ills. Many players donate significant amounts of money, and spend significant amounts of time helping disadvantaged people in their communities. And now, perhaps most encouraging of all, the players are getting to sit down with owners to discuss how the even more unimaginably wealthy team owners can participate in addressing the players' concerns.
This strikes me as a turning point, perhaps not as sharp a turn as many would like, but a turn nonetheless in a direction that hopefully has players and owners walking together to participate in the betterment of society. Naturally, the owners' personal interests will come into conflict with player demands and suggestions about what type of collaborative/collective action both sides can take to address player concerns will be shaped by that conflict and how it's resolved. The owners will bring a perspective to these discussions about the overall health of the league and how everyone needs to come to some sort of agreement or understanding about how their actions might affect everyone's bottom line, but it's inevitable at this point that some very wealthy, powerful, white men are going to come to terms (in some measure) with the everyday realities of racial injustice that many of their employees have faced their entire lives. This can only be a good thing. How good is yet to be seen, but the fact that it's happening is heartening.
In a year chock full of surprises and upsets, week 6 was probably the craziest week yet. Did anyone see the winless and offensively beleaguered Giants going to Denver and plowing through the best defense in the league? And in Atlanta, the Falcons blew a seemingly insurmountable first half lead (sound familiar?) to a team that was averaging about 10 points per game. And the Steelers, a team in disarray just a few days earlier, went into Kansas City and beat the formerly undefeated Chiefs.
Add to that the crazy 90 point game between the Saints and Lions, the Jets getting screwed out of another possible major upset, and Aaron Rodgers going out for the season with a broken collarbone a week too late for my tastes, and what's left to talk about?
AMOS OPOTW Meets AARB
Last week I joked that Adrian Peterson, who said he had "4 or 5 good years" left in him, might have 4 or 5 good weeks left. He responded by pounding the rock for 134 yards and 2 TDs, powering the Cardinals to a 38-33 victory in a must-win game against the Buccaneers. While the smart money is still on AP not performing like that 4 or 5 years from now, his re-emergence has put the 3-3 Cardinals back in the thick of the NFC West race.
AMOS DPOTW
Chicago Bears 3rd year safety (and Baltimore native) Adrian Amos returned a Joe Flacco pass 90 yards for a TD in the Bears 27-24 OT win in Baltimore. With the Bears leading 17-13 in the 3rd quarter and the Ravens driving toward a go-ahead TD, Amos snagged a Flacco pass and took it the other way, which didn't win the game, but like all pick 6s, was a huge momentum shift. Speaking of Flacco…
AMOS A Moment Of Schadenfreude
Remember when Joe Flacco was considered an elite QB? That seems like an awfully long time ago, and last Sunday you could've measured that time in geological terms, as Flacco completed 24 of 41 passes for a grand total of 180 yards. For those scoring at home, that's less than 5 yards per completion. I'm too lazy to research how many RBs last week averaged more per carry than that, so instead I'll add that Flacco threw a pair of INTs in the loss to the Bears, and that last week's performance is par for the course for Flacco in 2017. He's averaging 5.4 yards per completion, and has thrown 4 TDs versus 8 INTs. But at least he has a gigantic pile of money to cry into, as he's the 7th highest paid player in the NFL this year, making over $22 million.
Who Needs Waldo?
Speaking of underperforming, overpaid QBs, how many teams would currently benefit from signing the league pariah? My count is at ten right now.
Despite the Dolphins victory last week, Jay Cutler still sucks.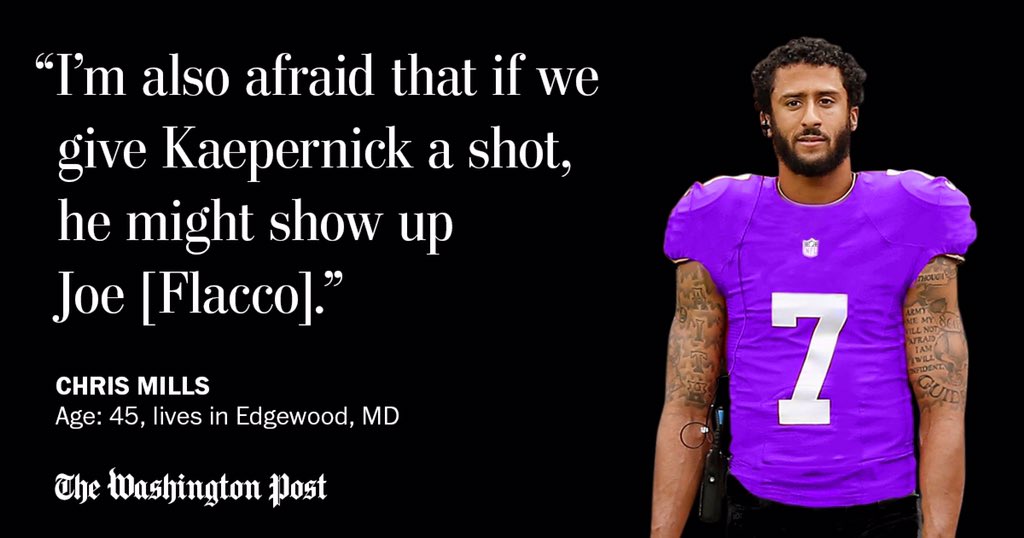 In Baltimore, Ravens owners conducted a fan poll before the season began when they were considering signing Kaepernick and chose to bow to the whim of the fans and take a pass on CK. One has to wonder what would be the talk of the town right now if Kaepernick was sitting on the bench behind the flailing Flacco?
As always, the Browns are a disaster at the game's most important position, so there'd be nothing but upside to starting Kaepernick, particularly in terms of having a guy to groom DeShone Kizer.
Is it even worth our time to argue whether Kaepernick is better than Blake Bortles?

How about Indianapolis? They've known Luck would be out for several weeks, if not the entire year, since preseason. Could CK be any worse than Scott Tolzien or Jacoby Brissett? And if the NFL is concerned about ratings, imagine what kind of numbers the 49ers at Colts would've done a couple weeks ago when Vice President Snowflake walked out of the stadium in choreographed indignation when players knelt for the national anthem?

Or how about the Broncos, whose combination of Tervor Siemian and Brock Osweiler (who's making $18 million this year) combined to produce a loss last week to an 0-5 team? This squad has the best defense in the league, and no shortage of weapons on offense, and yet somehow they are only 3-2.

How about the Raiders? Isn't Colin Kaepernick better than EJ Manuel?
And speaking of teams with injured starting QBs, how much better are the Packers chances of maintaining their dominance of the NFC North with CK under center instead of Brett Hundley?
And what of the Buccaneers, who just lost Jameis Winston? Are you telling me Ryan Fitzpatrick gives them a better chance to win?

The 49ers get a pass here, as CK declined to resign with them at the end of last year, but what about the Bears? I love Mitchell Trubisky, he's certainly better than Mike Glennon, but I also think the team would have a better chance to win and it would benefit Trubisky's development if he had the chance to play behind a Super Bowl QB like Kaepernick.
Anyway, we'll see what comes of all this as Kaepernick's grievance, filed by the NFLPA against the league charging all 32 teams colluded to keep him off the field and the sidelines, works its way through the courts. While it seems unlikely he'll be able to prove collusion, perhaps this process, along with the growing desperation of a number of teams as their playoff hopes dwindle later in the season, will provide a chance for a team to sign him and put all this to rest.
Week 7 Picks
Kansas City (5-1) -3 at OAKLAND (2-4)
Obviously, this is a "must-win" game for the Raiders, but with David Carr on the sidelines and EJ Manuel under center it feels a lot more like a "can't-win" game. How much more exciting (or at least intriguing) would this game be if Alex Smith was returning to the Bay Area to face the guy who replaced him in San Francisco?
Tennessee (3-3) -6 at CLEVELAND (0-6)
Honestly, I'm a bit wary of giving this many points on the road to the Browns, half of whose losses are by less than six points. But I think the Titans are about to win 4 of their next 5 and establish themselves as the favorites in the AFC South, and I can see them winning by 14 late in the game and running out the clock.
Jacksonville (3-3) -3 at INDIANAPOLIS (2-4)
Laws of Parity say otherwise, but I see one team that has some very powerful tools on offense (sans a QB), and another team that just looked terrible in a Monday night loss last week. This game should be called the "Kaepernick Bowl," as both teams would be a lot better with CK under center.
Cincinnati (2-3) +5.5 at PITTSBURGH (4-2)
This game is basically the Bengals entire season. If they lose, the Steelers run off with the division, and the Bengals chances for even a wild card become very remote. The Steelers looked great last week, but the Bengals are coming off their bye and looked pretty good the previous three weeks.
MINNESOTA (4-2) -5.5 vs Baltimore (3-3)
The Ravens are so bad it's hard to figure out how they won three games. This is easy.
New York Jets (3-3) +3 at MIAMI (3-2)
I know the Dolphins are coming off a big win last week, but they're still averaging about 12 points per game, and the Jets, who were robbed last week, always give them hell, so I'm taking the points.
BUFFALO (3-2) -3 vs Tampa Bay (2-3)
Ryan Fitzpatrick returns to Buffalo! It's actually not that special, as there are more than half a dozen stadiums Fitzpatrick could be "returning" to. The man has played everywhere, and with the exception of some flashes of brilliance and bravery here and there, he's been a guy teams start when they have nowhere else to turn. The Bills defense is too good to let this guy beat them, and the Bucs don't have a kicking game, so I'll take the Bills and give the points, despite the obvious Laws Of Parity issue.
CHICAGO (2-4) +3 vs Carolina (4-2)
Honestly, I was hoping to get more than 3 points here. But I've already gone against three home dogs, so I'm riding with Mitchell Trubisky.
GREEEN BAY (4-2) +5.5 vs New Orleans (3-2)
Sure, the Saints scored 647 points last week, but they can't do that in Lambeau, right? I do like the Saints to win, but I think the Packers will find a way to keep it close.
Arizona (3-3) +3.5 vs LOS ANGELES RAMS (at London) (4-2)
Why would you have two west coast teams traveling halfway around the world (ok, a third of the way, or maybe a quarter) to play in London? This is stupid. This game had the potential to be good, and staging it in London is just a way to to recklessly inflate the NFL's biological footprint. So I'm taking the points in the Jetlag Bowl.
San Francisco (0-6) +6 vs Dallas (2-3)
I believe Dallas wins this game, but the 49ers have lost their last 5 games by 3 points or less, so they're playing teams close. Dallas is coming off the bye, and they somehow managed to keep Ezekiel Elliott on the field every Sunday, despite a 6 game suspension looming over his head. I don't like the way this game smells, I could see Dallas losing, but with my track record this year, that probably means Dallas wins by 28 points.
NEW YORK GIANTS (1-5) +5.5 vs Seattle (3-2)
Luckily for the Seahawks, this isn't an early game, so jet lag should be less of an issue. But I still need to take the home team on the east coast versus a west coast team that's giving almost six points. Seattle wins, but it'll likely be close.
LOS ANGELES CHARGERS (2-4) -1 vs Denver (3-2)
Laws of Parity, I'm rolling with them here.
Atlanta (3-2) +3.5 at NEW ENGLAND (4-2)
Super Bowl LI replay! It seems like whenever they stage these Super Bowl rematches the next year, the losing team always wins.
Washington (3-2) +5 at PHILADELPHIA (5-1)
I'm not buying this whole "Eagles Super Bowl" thing. They're the better team, but that doesn't seem to mean anything this year.
Last week: 6-8
Season: 37-53-1